Virtual Tasting Pack OLD
---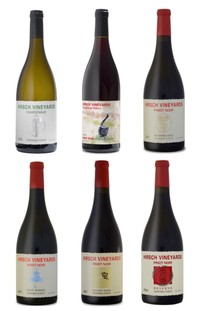 Hirsch Virtual Tastings are now available! Purchase our 'Virtual Tasting Selection' and then schedule your in-home private wine tasting via Zoom. We've chosen six of our favorite wines, spanning three different vintages, and shipping is included.
Our wine educator will reach out after you've made your purchase to set up your tasting. We offer tastings Wednesday through Friday, at 2pm and 5pm PST. You can open all six wines at once (go crazy!) or just a few – our wine educator is happy to customize the tasting to your preference.
We are also offering group tastings, if you'd like to set up a virtual wine event with friends, family or colleagues in different locations. Please contact us for more information on how the group tastings work.
The tasting pack includes 1 bottle each of:
2018 Hirsch Estate Chardonnay
2018 Hirsch 'Bohan Dillon' Pinot Noir
2017 Hirsch 'San Andreas Fault' Estate Pinot Noir
2017 Hirsch 'East Ridge' Estate Pinot Noir
2017 Hirsch 'Raschen Ridge' Estate Pinot Noir
2016 Hirsch 'Reserve' Estate Pinot Noir
Complimentary ground shipping included.
For those is warm weather states, air shipping is just $40 (normally $155).