The East Ridge
---
By David Hirsch, February 2019
HISTORY
When I first walked Madrone Ridge [1] in the 1980's, it was pasture land. George Charles [2] had logged and cleaned it up so his sheep could graze. George said that when he logged it, the trees were so dense the tractor could not get through. It was hard in the early days for the ranchers to make a living so they all did logging to one degree or another.
George loved the area where our house is now located, called it a park, and did not cut much over there. After the big fire of 1954, George built the barn that is now our winery.
Most of the ranch was a mess when I bought it in 1978: snags and boles left to rot where felled, plus serious erosion due to the heavy rains and impacts of over grazing. Madrone Ridge was an exception. When I decided to plant vineyards in the farmable fields, this area, along with the relatively level areas along the main road, were my first choices.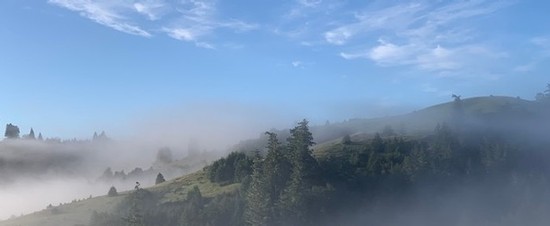 The East Ridge swathed in morning fog. May 2019​
FIRST PLANTINGS
In 1989 our neighbor Gard Hellenthal and an equipment operator from town ripped all the fields on the East Ridge; then they built the large dam for the reservoir. It was only six acre feet at that time [3]. The big fence that protects the center of the ranch and all the vineyards on the southern and eastern areas was constructed at this time. With this in place it was not necessary to fence in each field.
We had constructed an electric line from the Dillon's to Gard's shop back in 1983-84. In 1989 Gard ran the poles to the Raschen Barn (now the winery), providing power for the irrigation pumps in the dam and later the pumps at the 1A site.
David Henry, the owner-founder of Harmony Farm Supply, worked out the irrigation plan for the vineyards. I purchased an old fir winery tank and Gard erected it in its present location next to 1A. We ran pipes from there down to the dam for irrigation water and electricity for the pumps. This provided water for the East Ridge blocks.
In 1990 our vineyard manager Everardo Robledo and I planted the first vineyards on the East Ridge, Blocks 4A and 4B, for a total of to 5.2 acres. In 1991 we planted Block 5 at 5.4 acres [4].
In those days, I had little reason to pay much attention to the soils. I had met Bob Uttermohlen, one of the first agronomists who took a serious interest in vineyard soils. He was my first guide in this area. We applied many tons of lime to balance these acidic soils, as some of the pH's were under 5.0. Unfortunately at that time we did not do the exhaustive soil work that we later undertook before all new plantings.
We selected AXR rootstock for all the plantings in 1990-91, as it was the rootstock of choice in those days. Sadly, I was not aware that it had begun to fail to the mutated aphids which cause phylloxera. I was addicted to the Mt Eden selection, which I had collected in 1989 from the Mt Eden Vineyard in Santa Cruz. So 4A and 4B were originally budded to it, except that Sonoma Grapevines totally screwed up and we wound up with a wild mixture of clones and very little Mt Eden in 4B. In field 5 we planted AXR budded to our Pomard/Wädenswil mix from The Old Vineyard.
It's important to remember that back in 1989-95, for me planting the vineyards was mainly an adventure. I had no hands-on experience and the guidance I received from Rich Thomas (the instructor at SRJC and a big influence in bringing Sonoma County viticulture to its present level of excellence), Bob Uttermohlen, Mick Bohan and a few others was mostly based on their attention to canopy management, disease control and fertilizing. Very little was offered about the soils which for our site is of the most paramount importance. And it was all about quantity, with little concern for quality and site-specific farming.
Everardo was twenty in 1989 when he came to the ranch. His experience was in the fields of Napa mainly doing field grafting. Obviously the complexities and challenges posed by this place were far beyond his reach just as they were for me. It wasn't until 1998 and the near disaster cum revelation in Block 7 [5] that we began to understand the true nature of the place and found the direction how to work with it. We realized the site, its soils and plants, were our true teachers. We fired the consultants we had been using and set out to learn from the source. This was the primary motive for building the winery. Not knowing what we didn't know and not knowing that we didn't know it, we stumbled blindly along making lots of mistakes, yet doing also a lot of good.
In 1993 the East Ridge produced its first salable fruit: 5.2 tons from 4A, 4B, and 5. It was sold to Stonestreet (Kendall Jackson), Searidge Winery (now defunct), and Bonny Doon (Randall Graham). It was a thrill for me to be driving a truck load of grapes (4.65 tons) back to Santa Cruz, where I had lived for so many years. Randall had contacted me about buying fruit, and I had readily agreed to sell him what I could. This pissed off KJ as they thought they had a contract to cover all the fruit produced. Of course I ignored it so in 1995 they threatened to take me to court for violation of the terms of the deal. Jon Bellsey [David's long-time lawyer and dear friend] showed them that they had no grounds to stand on as they had failed to enforce the contract in prior years. Tom Selfridge was then the VP of KJ and a very tough customer. Interestingly, after losing this conflict, he and Jon became friends as their kids wound up at the same school.
The old East Ridge planting blocks.

David and Everardo in 1996.

The first vintage of the Williams

Selyem "Hirsch Vineyards" Pinot Noir
1994 was the year we first sold fruit to Ted Lemon of Littorai, Steve Kistler, Williams Selyem, and Whitcraft. Wow! Quite the lineup for an unknown vineyard located in an unknown place. Burt and Ed [of Williams Selyem] received 20.65 tons. It was much more than they expected plus it all came in close to their Russsian River fruit. Overloaded, they gave some to Chris Whitcraft, which is how we got started with him. Their fruit was from 8, 5E, 4B, 4A, and The Old Vineyard. They were overjoyed with it. Burt said later that the perfect Hirsch blend was 2/3 Pommard and 1/3 Mount Eden. At that time we assumed all of 4B was Mount Eden. It wasn't until later that we realized the error made by Sonoma Grapevines.
PHYLLOXERA & BIODYNAMICS
The vines on the East Ridge began to show phylloxera in 1994. The first blocks to really give up were above the East Ridge: 3A and 2, then 3B. These declined quickly and seriously, so by 1995 we began taking them out and replanting these fields on 3309 rootstock.
The phylloxera moved more slowly in 4B and 5, The better drained soils (more sand and loam) played a part; also it didn't take hold for many years, so the vines had a chance to extend their root range. Also, as time went by, we worked out practices to help promote root renewal. And we love the vines. So we decided not to replant them, and instead to farm with the phylloxera.
Everardo has masterly farmed 5 and 4B over the years to maintain the health and reasonable production of the vines. For years he used measured amounts of calcium nitrate in the spring coupled with regular tillage and heavy post harvest irrigation, fertilizers and humic acid. Much compost was applied along with a cover crop to fix nitrogen. Starting in 2013 when we converted to biodynamic farming, we focused on heavy composting and the various biodynamic teas plus the preps: 500 and 501.
It's very apparent that the biodynamic practices and the close attention and care fostered by this practice have strengthened the vines by making their immune systems stronger and creating conditions in the soils to bring them proper nutrition when needed. All without reliance on the "steroid" habit of forced nitrogen application.
In summary, the quality in East Ridge is a function of constant attention and work. Starting with expert pruning to bring balance, not just yields; then diligent canopy management to ensure that light and air movement are always present; in conjunction with good soil treatment consisting of composting (often twice a year), cover crop blends developed to bring fertility to each block, and carefully measured and applied periodic applications of lime amendments and organic fertilizers. Irrigation is limited, mainly used to arrest rapid ripening in heat spikes close to harvest. Farming for balance remains our strategy and biodynamics provides the best, most effective practices to bring health, vitality and sustained life to each vine.
| | | |
| --- | --- | --- |
| | | |
| Vines stressed due to phylloxera. | The steepest slopes on the East Ridge. | Tiny clusters on the East Ridge. |
NEW PLANTINGS
The East Ridge extension, Blocks 23 and 25, was planted after very careful analysis of the soils, especially the water holding capacities. We employed the best consultants and carefully executed their recommendations, along with our ideas, in preparing the fields for planting. The 4.25 acres of 23 were divided into six farming blocks due the distinct soil types, water holding levels, and depths. 25's soils are more consistent so the blocks are more even, except the 25-3, where there is a marked difference in soil depth between the top and bottom of the block. At this time we also analyzed the soils in the planted vineyards.
We employed James Stamp to monitor the health of the rootstocks so we had clean plant material. Over the years (it's now seventeen years!) the results have been very positive especially in the balanced growth in spite of the highly variegated soils. Biodynamics has been an enormous assist. Some of these newer blocks should soon provide fruit worthy of being included in our East Ridge Pinot Noir.
CONCLUSION

Much 'history' is included here. Unfortunately I can't recall much of the hands-on experience. I vividly recall starting the planting in what is now 1A. We were so ignorant, yet so enthusiastic. It was young Everardo, four or five totally inexperienced Mexicans, and myself. Only the young and foolish could have pulled this off.
ADDENDUM - by Jasmine Hirsch
Many exceptional wines were made from the East Ridge by our fruit customers over the years. Our first estate bottling from the East Ridge was from the 2009 vintage. Our new winemaker at the time, Ross Cobb, had first tasted Hirsch out of barrel at Williams Selyem, when he was employed there as their enologist. The blocks he tasted at Williams Selyem were from the East Ridge. When Ross joined Hirsch, he encouraged us to bottle these blocks on their own, and thus the East Ridge Pinot Noir was born.
We have produced the East Ridge Pinot Noir every year since.
FOOTNOTES
[1] The old-timers' name for what we now call East Ridge.
[2] A former owner of what is now Hirsch Vineyards. He sold it Mr. Zoraster in 1972, from whom we purchased the land. George was the largest and most successful rancher in this area: ran sheep over 10,000 acres, owned and leased, with just himself and his handy man, Jimmy Kennedy. He was highly respected; believe he held an elected or appointed office; accomplished horseman; and a very decent human being.
[3] It was expanded to 25 acre feet around 2000 in anticipation of planting twenty-five new acres in 2002-03.
[4] In total we planted nineteen acres in 1990-91, across the entire ranch.
[5] The big El Nino year when it rained 150" and Block 7 nearly drowned due to an inappropriate rootstock selection on its heavy clay soils.