2018 Hirsch 'Raschen Ridge' Estate Pinot Noir
---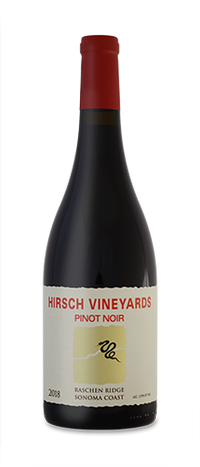 The Raschen Ridge Pinot Noir is a study in harmonious opposites: it combines self-confidence with restraint, hedonism with complexity, intensity with elegance. The wine is a reflection of its diverse site.
As you walk along the western edge of the Raschen Ridge, cold winds off the Pacific buffet you, and tendrils of fog follow you amongst the vines. Here the Ridge is a knife's edge, exposed on all sides to the elements. These vines produce wines of body, weight and a sexy intensity.
Follow the Ridge to its eastern end, and you will discover a hidden vineyard. Protected, idyllic and sheltered, it's like another world. From here you have a 270 degree view: all of Hirsch is laid out before you, and yet you're hidden in a secret garden. Here the wines are ethereal, fragrant, and mysterious.
The western section shone bright from a young age, like a preternaturally gifted child. From their youth, the vines produced energetic, self-confident, naturally balanced wines. Meanwhile the hidden eastern section was a bit of a red-headed stepchild. Stressed soils complicated by undulating swales led to many years of uneven fruit development. It was only with time that the vines adapted and finally in 2014, they began to reveal the seriousness of the site. The complete history of the Raschen Ridge is here.
The Raschen Ridge Pinot Noir is the happy marriage of these two opposite expressions. They coexist on the Raschen Ridge, a microcosm of the San Andrean complexity that defines all of Hirsch. And they result in a wine that seamlessly combines self-confidence with elegance, hedonism with complexity, and pleasure with intrigue.
In 2018, the Raschen Ridge opens with hints of mint, raspberries, plum skin, spice and roses. With air, the palate is deep and intense, with a dark-fruited attack and long, lingering finish.
Henry Raschen (1854–1937) was a painter of the American West who lived on the ranch that is now Hirsch Vineyards. Old-timers called our ranch the Raschen Place, and Henry's house stood here until 1954.
Wine Specs
Appellation
Fort-Ross Seaview, Sonoma Coast
Vineyard Designation
Hirsch Vineyards