2018 Hirsch 'Maritime' Estate Pinot Noir
---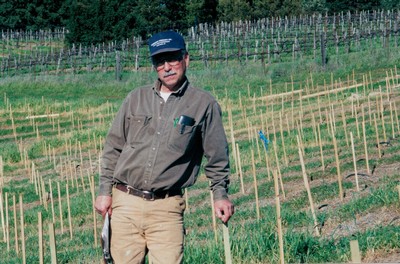 David planting the Maritime Fields. ​
When you arrive at Hirsch Vineyards, you are welcomed by the earthly beauty of the Maritime Fields. In front of you, the Pacific glistens, redwoods like sentinels shade the land, and the silence and remoteness speak to its essential, undisturbed nature.
David Hirsch planted the Maritime Fields in 1990. Just five years later, they tragically succumbed to the vine disease phylloxera. Undaunted, he replanted them. In 2018, twenty-eight years after first breaking ground, we bottled the inaugural release of the Hirsch Maritime Estate Pinot Noir. This wine is a deep expression of a unique and particular place, and a celebration of David's determination and optimism. Just 98 cases of the 2018 Maritime were produced.
David Hirsch wrote of this wine:
The 2018 Maritime wine reminds me of the early William-Selyem releases from our vineyard. They too were of the same Pommard / Mount Eden blend. They too brought forth clearly the signature of the site, the integrity of Pinot Noir and the accents provided by the clones. This is one of the truest wines we have made. The wine's body and balance augur a long life, granting serial opportunities to experience the unique identity of our site clothed in the enspelling raiment of well-farmed and well-vinted Pinot Noir.
Read David's extensive history of the Maritime Fields here.
Wine Specs
Appellation
Fort Ross Seaview, Sonoma Coast
Vineyard Designation
Hirsch Vineyards