Hirsch Nicolas-Jay Virtual Pack
---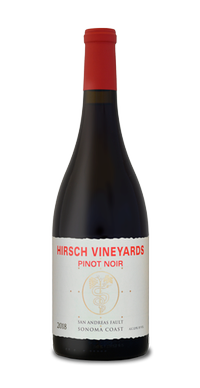 Join us for a virtual event with Hirsch Vineyards and Nicolas-Jay Estate on 4/11 at 12pm PST. Each winery is offering a 2-bottle pack of Pinot Noir to taste during this virtual event. This will be an in-depth discussion geared towards the most passionate of Pinot Noir lovers about clonal selection, climate, ripeness and so much more from three of the world's most renowned Pinot Noir champions.
2018 HIRSCH VINEYARDS 'SAN ANDREAS FAULT' ESTATE PINOT NOIR
The 2018 San Andreas Fault Estate Pinot Noir is charming and complex, with notes of cherries, pomegranate and baking spice. The tannins are gentle yet present, making this a perfect wine for both the impatient drinker and the collector. David Hirsch says that if you drink only one Hirsch wine, let it be this one. James Suckling, 94 points

2018 HIRSCH VINEYARDS 'BLOCK 8' ESTATE PINOT NOIR
The Block 8 is our only wine made made entirely from a single block. David Hirsch has always considered this his grand cru parcel. In this wine you will find a pure and focused expression of one of the most unique sections of the Hirsch Vineyard. The 2018 is notable for its power and complexity; it is one of the finest vintages of this wine to date. James Suckling, 95 points
Tax and shipping will be applied at checkout.