MAGNUM - 2018 Hirsch 'Reserve' Estate Pinot Noir
---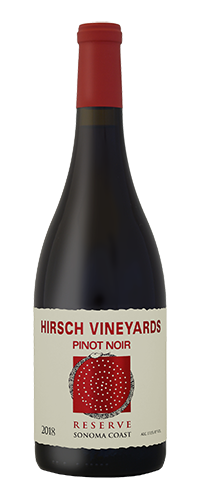 David Hirsch dreamed for many years of making a Reserve Pinot Noir from his vines. Since our first Reserve in 2009, we have endeavored to capture the most complete and powerful expression of the Hirsch Vineyard through selecting our very best and oldest vineyard blocks for this wine.
Lying adjacent to the great San Andreas Fault on the extreme western Sonoma Coast, Hirsch Vineyards is a single vineyard comprised of 61 distinct farming blocks. These blocks cover an area of 72 acres, resulting in a degree of fragmentation that is unmatched even by the famously subdivided vineyards of the Cote de Nuits. Each block was individually developed and planted based on soil, exposure and topography, and each is farmed, harvested and vinified separately. This process enables us to evaluate each farming block separately, and to select only the finest barrels from the most expressive vineyard blocks for the Hirsch Reserve Pinot Noir.
2018 was a vintage notable for its cool weather and sunny skies – our favorite kind of summer. A long, slow maturation resulted in wines of great concentration, incredible acidity, dark fruit, and early complexity.
The 2018 Reserve possesses intense red fruit complimented by savory aromatics and notable minerality. This may be the finest wine of the 2018 vintage, and we recommend holding this wine for a few years before drinking, to allow the tannins time to evolve.
Wine Specs
Appellation
Fort-Ross Seaview, Sonoma Coast
Vineyard Designation
Hirsch Vineyards
Aging
French and Austrian oak barrels, of which 45% are new