MAGNUM - 2018 Hirsch 'Block 8' Estate Pinot Noir
---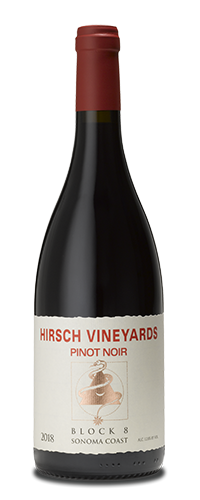 The 2018 Hirsch Block 8 Estate Pinot Noir is made entirely from a single block, a section of our vineyard that David Hirsch has long considered his grand cru parcel.
Block 8 is the only location at Hirsch where we have the Boomer-Mendocino soil formation. Characterized by a reddish tint from high amounts of iron oxide, the rock and gravel content in the soil averages 40-70% throughout. This results in superb drainage, allowing the roots to run deep and pervasive.
Block 8 is divided into 5 sub-parcels, determined based on rock content, all planted in 1993. The cuttings came from our oldest vines (The Old Vineyard) and are a field blend of the heritage pinot noir clones of Pommard and Wädenswil.
This extraordinary vineyard produces distinctive wines with supple, elegant tannins, explosive fruit aromatics, balanced acidity and complex aromatics.
The 2018 Block 8 Pinot Noir has an intense, concentrated fruit profile. Predominantly red fruited, it has an underpinning of sassafras and dark cherries, with hints of wet stone and mint adding early complexity. This wine has the classic, well-integrated tannins of Block 8, superbly matched with the luscious fruit. Incredibly expressive already, it can be drunk with pleasure now (give it 30-60 minutes of air). This is wine that will only get better with age, so we encourage you to lay a few bottles down. In this wine you will find a pure and focused expression of one of the most unique sections of the Hirsch Vineyard.
Wine Specs
Appellation
Fort-Ross Seaview, Sonoma Coast
Vineyard Designation
Hirsch Vineyards
Aging
French and Austrian oak barrels, of which 50% are new