MAGNUM - 2017 Hirsch 'Block 8' Estate Pinot Noir
---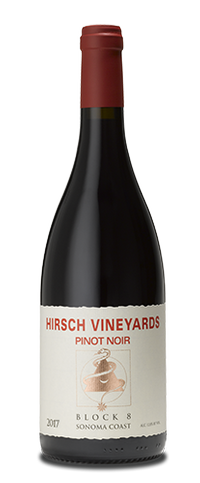 The 2017 Hirsch Block 8 Estate Pinot Noir is made entirely from a single block, a section of our vineyard that David Hirsch has long considered his grand cru parcel.
Block 8 is the only location at Hirsch where we have the Boomer-Mendocino soil formation. Characterized by a reddish tint from high amounts of iron oxide, the rock and gravel content in the soil averages 40-70% throughout. This results in superb drainage, allowing the roots to run deep and pervasive.
Block 8 is divided into 5 sub-parcels, determined based on rock content, all planted in 1993. The cuttings came from our oldest vines (The Old Vineyard) and are a field blend of the heritage pinot noir clones of Pommard and Wädenswil.
This extraordinary vineyard produces distinctive wines with supple, elegant tannins, explosive fruit aromatics, balanced acidity and complex aromatics.
The 2017 vintage gifted us with wines of elegance and delicate structure. The Pinot Noirs are earthy and red fruited, and have a dynamic old school quality, balancing ripeness and tannin. Less tannic than other vintages, they are showing well young.
The 2017 Block 8 possesses sappy fruit, gentle tannins and earthy aromatics. The plush red fruit that is a defining characteristic of this vineyard is present, interwoven with notes of dried cherries, bacon and dried hay. This wine can be drunk now if decanted, or it may be cellared for a few more years.
Wine Specs
Appellation
Fort-Ross Seaview, Sonoma Coast
Vineyard Designation
Hirsch Vineyards