2020 Hirsch Rosé of Pinot Noir
---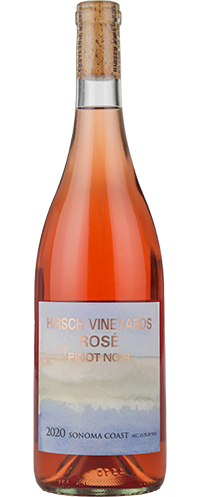 2020 marks the inaugural vintage for the Hirsch Rosé. Our intention in making a rosé is to capture the intensity and complexity of Hirsch Pinot Noir, in rosé form.
This is a complex rosé with weight and texture. It is a true Hirsch wine, and a new lens into our site. While we cannot say for sure until we have more experience with this wine, we believe the Hirsch Rosé has the potential to age, and will gain in complexity over time.
About the wine
Serious rosés are made from serious fruit, and this wine is no exception. We earmarked six of our vineyard parcels in 2020 as potential sources for the Hirsch Rosé fruit. Throughout the growing season, we tracked them closely, looking for specific qualities, especially in the ripening curve, that would make them ideal for the rosé of our dreams. As harvest grew near, we narrowed it down to two ideal parcels. The first, Block 9A, is planted to two heritage Pinot Noir selections, Calera and Mount Eden, and is located on the northeastern side of Hirsch Vineyards. The other is the tiny but extraordinary Block 2, located in the Maritime Fields. Windswept and rocky, Block 2 produces tiny clusters with tiny berries.
The grapes were harvested just a few days before we would have picked them for red Pinot Noir, ensuring a complex and complete ripeness profile in the final wine. The grapes were partially destemmed and directly pressed, then barreled down in neutral oak barrels for fermentation and aging. For the last two months of the elevage, about 25% of the wine was aged in some very fine, once-used puncheon barrels.
Tasting and service notes
Savory and complex, the Hirsch Rosé is a wine of weight and distinction. The color is a gorgeous dark salmon pink, a premonition of the wine's oceanic energy. Notes of toasted hazelnut and fig leaf add complexity to the strong Pinot Noir fruit character, with a hint of strawberry at the finish. A touch of tannin gives the wine a serious, savory character, while not impeding its drinkability.
We strongly recommended giving this wine an hour of air before drinking. Serve cold, at 45-50 degrees, and allow it to warm up in the glass. With air, intense savory notes will yield to charming cherry and stone fruit aromatics.
Wine Specs
Appellation
Fort Ross Seaview
Vineyard Designation
Hirsch Vineyards