2018 Hirsch 'San Andreas Fault' Estate Pinot Noir
---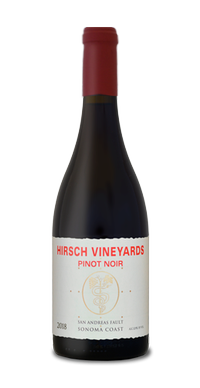 The 2018 San Andreas Fault Estate Pinot Noir is charming and complex, with a captivating dark cherry nose with notes of licorice and baking spice. The tannins are gentle yet present, making this a perfect wine for both the impatient drinker and the collector.
The San Andreas Fault is Hirsch Vineyards' signature Pinot Noir and is crafted to represent the entirety of this multifaceted vineyard. The 2018 San Andreas Fault has fruit from 45 distinct farming blocks. It is the flagship wine from Hirsch, and the wine that represents the summation of our complex vineyard.
Over 37 years of farming and winemaking on the True Sonoma Coast, David Hirsch's accumulated wisdom has shown us that the dominant influence on our farming and winemaking is the San Andreas Fault, which lies just half a mile from the Hirsch Vineyard. The wine that captures the complexity, power and energy of this geologic phenomenon is our San Andreas Fault Estate Pinot Noir, the wine that David calls "the Hirsch Hirsch".
Hirsch Vineyards is comprised of 72 acres, divided into 67 individual farming blocks, corresponding to the dramatic and sudden changes in soil and aspect created by the Fault. This degree of fragmentation is unmatched even by the famously subdivided vineyards of Burgundy's Côte de Nuits. The vineyard has a fearsome diversity of soils, aspects, elevations and microclimates. This complexity defines our farming and winemaking practices: each block was individually developed and is now farmed, harvested and vinified separately.
Wine Specs
Appellation
Fort-Ross Seaview, Sonoma Coast
Vineyard Designation
Hirsch Vineyards