2017 Hirsch 'East Ridge' Estate Pinot Noir
---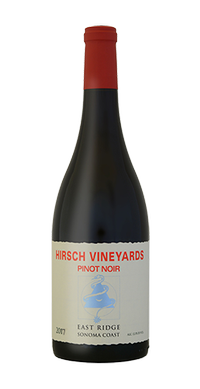 The 2017 Hirsch East Ridge Estate Pinot Noir is a selection of the very best barrels from the finest and most expressive blocks on the East Ridge. Years of intense biodynamic soil care and an end to California's five-year drought have helped restore vigor and energy to the old, stressed vines on the East Ridge. In 2017, we see the results in a wine of greater fruit intensity than the last few years, complimented by the supple, masculine tannins that characterize the East Ridge Pinot Noir.
The East Ridge is one of the oldest and most unique sections of the Hirsch Vineyard. It is a topographically distinct micro-site within the Hirsch Vineyard, beginning at an elevation of 1,600 feet, before sloping steeply into the eastern canyon. Fog gathers in the canyon at night, and during the day the cool ocean breezes circulate amongst the vines. However it is often the first place the fog burns off in the morning, making it a relatively protected site.
Eighty percent of the old vines on the East Ridge are stricken with phylloxera, resulting in some of the lowest yields at Hirsch, and requiring intensive and meticulous vine-by-vine farming. The low yields contribute to a notable concentration of fruit in the East Ridge Pinot Noir. However the phylloxera also devigorates the vines, inhibiting photosynthesis and slowing down sugar accumulation. This combination of low vigor and low yields results in a wine of dark-fruited concentration tempered by elegance and naturally low alcohol. It is a masculine and structured expression of the Hirsch Vineyard, with fantastic concentration and energy.
Wine Specs
Vineyard Designation
Hirsch Vineyards