2013 Hirsch 'West Ridge' Estate Pinot Noir - SOLD OUT
---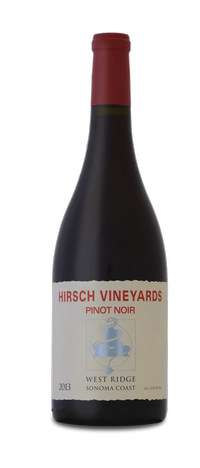 The West Ridge Estate Pinot Noir is a selection of the finest and most expressive blocks on the west ridge of Hirsch. Planted between 1990 and 2003, it is a series of hilltop vineyard blocks, spread like vertebrae along the ridge's spine. The soils on the West Ridge are highly heterogeneous, ranging from heavy black clay to sand to loam to yellow clay mixed with rock.
The foundation of the West Ridge Pinot Noir is Block 7, planted in 1990 with cuttings David Hirsch took from the Mount Eden Vineyard in the Santa Cruz Mountains. It is a true massale selection, with a diverse genetic makeup. The lineage of these plants can be traced back to Paul Masson, who brought Pinot Noir cuttings from Burgundy to California in the late 1800s. The genetic diversity of the plants imparts greater complexity to the wine, but also perpetuates the leaf-roll virus that came with the vines from Burgundy. The virus inhibits the ability of the vines to carry out photosynthesis and produce sugar. The result is wines that are more delicate, naturally lower in alcohol, and have extremely fine tannins.
The West Ridge Pinot Noir also includes the very best barrels from Blocks 6 and 12, planted to the heritage California Pinot Noir clones of Swan and Pommard-Wädenswil.
The West Ridge is the most delicate of our Pinot Noirs, with soft tannins and transparent fruit. This wine seduces with complexity and mystery, rather than with power. Despite its delicate body, it has fantastic aging potential, gaining complexity and aromatic lift with age. The tannins soften and lengthen, resulting in a supple, lifted mouthfeel that is remarkably persistent.
About the 2013 vintage: The 2013 vintage produced gorgeous wines that since their youth have been generous and expressive. Our quixotic marine climate conspired to produce apt conditions at pretty much every stage of vine development right up to harvest.
Tasting notes, updated Fall 2020: The 2013 West Ridge is juicy and fruity, with bright red aromatics and the beginnings of secondary flavors. A hedonistic expression of West Ridge that is a joy to drink. Showing very well now, but will gain complexity with a few more years in the cellar.
Wine Specs
Vineyard Designation
Hirsch Vineyards