Taste with Hirsch Vineyards
---
The world has changed overnight, but what has not changed is the support of our friends and customers. We are incredibly grateful.
While our tasting room is temporarily closed, we're delighted to offer you the opportunity to taste with us from the comfort of your own home. Purchase a tasting 6-pack and then schedule your in-home private wine tasting via Zoom. We've chosen six of our favorite wines, spanning three different vintages, and shipping is included.
Our wine educator will reach out after you've made your purchase to set up your tasting. We offer tastings Wednesday through Friday, at 2pm and 5pm PST. You can open all six wines at once (go crazy!) or just a few – our wine educator is happy to customize the tasting to your preference.
The Hirsch Tasting Room
Temporarily closed. Please join our mailing list to be informed when we reopen. We look forward to hosting you!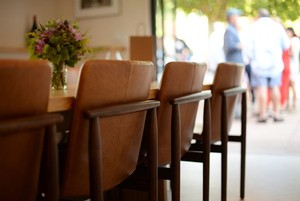 Hirsch Vineyards is located on the Extreme Sonoma Coast, far from cities and main roads. To better share our wines, we opened a tasting room in Healdsburg, in the heart of Sonoma County.
Intimate and private, the Hirsch Tasting Room is a tiny and charming space, designed by Marie Hirsch to reflect the aesthetic of the Coast and the spirit of Hirsch. We partnered with some of our favorite farmers and purveyors in Sonoma to expand your experience. Cheesemaker Soyoung Scanlon of Andante Dairy has personally curated a selection of world class cheeses to pair with our wines, with additional provisions from local artisans.
Visitors will experience the story of Hirsch Vineyards, through the lens of our wines. We look forward to sharing our hospitality, passion for great Pinot Noir, and dedication to the True Sonoma Coast with you.