Taste with Hirsch Vineyards
---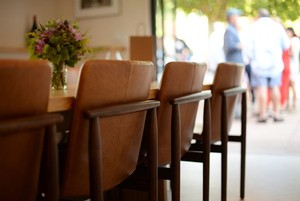 We are closed for the holiday weekend through November 30. We wish you all a safe and happy Thanksgiving!
All appointments are private, seated outdoors, and carried out with great attention to the safety of our guests and staff. Only one group will be hosted in the tasting room at a time, so you are assured a completely private experience. Details on our cleaning and safety practices can be found here.
Intimate and private, the Hirsch Tasting Room is a tiny and charming space, designed by Marie Hirsch to reflect the aesthetic of the Coast and the spirit of Hirsch. Visitors will experience the story of Hirsch Vineyards, through the lens of our wines. We look forward to sharing our hospitality, passion for great Pinot Noir, and dedication to the True Sonoma Coast with you.
Tastings are $50 per person and hosted Friday and Saturday, by advance appointment, and may be requested via the link above.
Hosted by one of our knowledgeable Wine Educators, this private seated experience will feature a flight of current vintage and library wines. Guests will enjoy our limited production Estate Chardonnay and Pinot Noirs. You will experience the True Sonoma Coast and the story of Hirsch Vineyards through the lens of our wines.
Please note reservation priority is given to active members of our Mailing List.
Our calendar fills up quickly each month, so we apologize if we are unable to accommodate your request. With the change in seasons all appointments are now weather permitting.