Hirsch Wine Dinner at State of Grace - June 6
---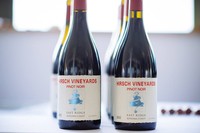 A private Hirsch Vineyards wine dinner at State of Grace in Houston on June 6 at 6:30pm.
Ford Fry's restaurant is a place pulled from recollections of foods Houstonians have loved.

While the modern world churns, here is a place where life slows down, stops, takes us back through memory. Executive Chef Bobby Matos strums a jubilant medley of old favorites played with new spice, accent, and freshness: southern, American, Latin, Gulf Coast, German, and Asian.

This will be a reception and three course dinner paired with magnums of Hirsch wines. The wines include a library selection as well as current vintages. Dinner is $155 per person, all inclusive. Seating is limited, so we strongly encourage you to book early.
If you would like to be added to a waitlist please email us.