Hirsch Wine Dinner at Metier - Dec 4
---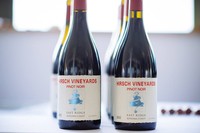 A private Hirsch wine dinner at Métier on Tuesday, Dec 4.
Join us at one of Washingtons hottest restaurants for a 4 course dinner paired with a special selection of current and library vintages of Hirsch wine. Metier is under the renowned culinary leadership, of chef Eric Ziebold and wife Célia Laurent's. The husband-and-wife duo are both veterans of the famed French Laundry, and it shows in the details—Ziebold's pitch-perfect riffs on French standards.
We expect this event to sell out quickly so we encourage you to book soon. Dinner is $275 per person, all inclusive and due to the nature of this event, reservations are ticketed and nonrefundable.
Wines:
Course 1: 2016 Hirsch Estate Chardonnay

Course 2: 2011 Hirsch "San Andreas Fault" Estate Pinot Noir and 2016 Hirsch "San Andreas Fault" Estate Pinot Noir

Course 3: 2016 Hirsch "West Ridge" Estate Pinot Noir & 2016 Hirsch "East Ridge" Estate Pinot Noir

Course 4 (cheese): 2014 Hirsch "Reserve" Estate Pinot Noir