Hirsch Wine Dinner at Little Owl the Townhouse - Dec 5
---
Townhouse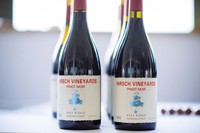 A special Hirsch wine dinner in New York on Tuesday, December 5 at 6:30pm.
We're delighted to partner with Chef Joey Campanaro of Little Owl, Market Table and The Clam for this event, which will be held in a private West Village townhouse. I'm very excited to partner with the Little Owl team, long one of my father's favorite restaurants in New York, who will craft a unique menu to pair with our wines (complete lineup below).
This dinner will also be the New York premier of our 2012 Hirsch Old Vineyard Estate Pinot Noir. Just four barrels (102 cases) of this special wine were produced. We have been patiently aging the wine until we felt it was ready, and we will finally release it this winter. Dinner guests will have the first taste!
Dinner is $240 per person, all-inclusive, and due to the nature of this event, reservations are ticketed and nonrefundable. Please email us to waitlist for tickets once this is sold out.
2012 Hirsch Estate Chardonnay
2013 Hirsch East Ridge Estate Pinot Noir
2015 Hirsch East Ridge Estate Pinot Noir
2014 Hirsch Block 8 Estate Pinot Noir
2014 Hirsch Raschen Ridge Estate Pinot Noir
2012 Hirsch Old Vineyard Estate Pinot Noir