Hirsch Wine Dinner at Henrietta Red
---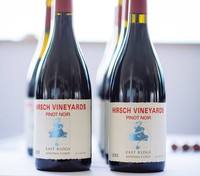 An exclusive Hirsch Vineyards wine dinner, to be held at Henrietta Red on Wednesday, November 28.
Henrietta Red is recognized as one of America's best new restaurants, with accolades from Bon Appetit and Food & Wine, as well as a nomination for Best New Restaurant by the James Beard Foundation. Chef and Nashville-native Julia Sullivan will craft a special menu to pair with wines from our cellar, which will include a selection of both current and older vintages.
Seating is very limited, and we expect this dinner will sell out quickly. Due to the nature of this event, tickets are prepaid and non-refundable. The cost per person is $160, inclusive of tax and service.