Hirsch Tasting at The Modern & MoMA June 2017
---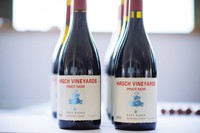 A private Hirsch wine tasting at The Modern in New York on Sunday, June 11, 2017.
The event will begin with a casual, walk-around wine tasting overlooking the glorious Abby Aldrich Rockefeller Sculpture Garden. We'll be showing a selection of our top wines including verticals of the West Ridge and East Ridge Pinot Noirs, paired with passed canapés from The Modern's acclaimed chef Abram Bissell.
During the tasting you'll be led in small groups on a kitchen tour of one of New York's most beloved, two Michelin star restaurants. From this exclusive view, guests can take in the buzzing activity of the Modern's world-class kitchen while they prepare our delectable pairings.
The tasting is from 1 to 3pm, and the museum tour will begin at 3:20pm. Tickets are $135 per person.
Space is very limited. Please note that due to the nature of this event, tickets are charged upon confirmation and are non-refundable.